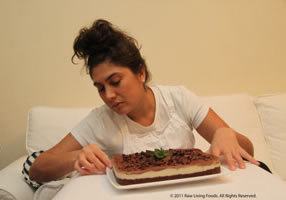 Do you have a Birthday coming up?
Do you have friends coming over for dinner?
A house party?
Have you thought you just might want to take a delicious Raw Vegan cake over to your mother's?
Or maybe you just want a healthy treat for the weekend…
No dairy, No eggs, No flour, No margarine
No refined sugar, Gluten free, No gelatine
Non GMO, No artificial colouring, No preservatives
Blueberry Cheese Cake

New York Cheese Cake

Choc Mint Cheese Cake

Chocolate Mudslider

Pecan Pie

Chocolate Ganache

Key Lime Pie
Lemon Poppy Seed

French Vanilla Choc Mousse

Pumpkin Prailine

Raw Lemon Cheesecake

Raw Lemon Coconut Cream

Raw Tiramisu

White Chocolate Raspberry Cheese Cake
"Ace! The cake was so utterly delicious & ridiculous, I've never seen a cake eaten that fast or in such high demand at any event before. I've been dreaming about it ever since.

Thank you! Amelia"
"Hi Ace!

Thank You so much for the wonderful cake. It was delicious & an absolute hit with my guest! I have a few friends with dietary restrictions, mainly Gluten & Lactose intolerances. It was wonderful to be able to cut the cake & pass a slice to all the guests, being inclusive & receptive to everyone without isolating anyone or publicly mentioning there dietry restrictions.

Thanks a bunch Ace!
Looking forward to finding any excuse to ordering another cake.

Best Regards, Jess "